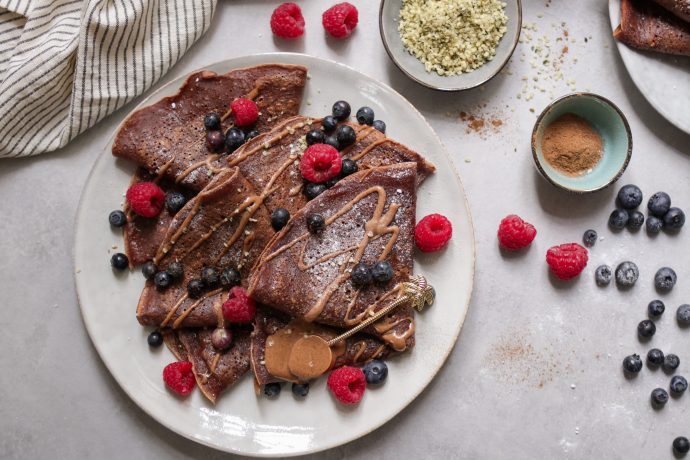 Zu meinen Favoriten hinzufügen!
Soft, vegan pancakes in all variations are among the most popular recipes on my blog. No wonder, as pancakes are made super quick & easy and are so versatile. You can serve them the savory way,  filled with sautéd veggies, creamy spinach or luscious pastes or hummus but they also taste great in sweet variations. Today I show you my favorite recipe for chocolate pancakes with almond paste. It's the first recipe I did in my newly renovated kitchen. Perhaps you already saw our construction work on Instagram? Actually, I "just" wanted to replace the old tiles and the worktop in my kitchen, but then…. we decided to also remove the old and ugly woodchip wallpaper, install a new sink and a new kitchen floor – ooooups – two days later we were virtually in the shell.
Phew, but it was worth it. Below you can see a photo of my old kitchen. At first sight it looks cosy and nice, but the worktop had bad signs of use, the tiles were certainly from the pre-pre-previous tenant and cables and pipes lay unpleasantly unplastered on the walls. Sockets were missing and by getting closer the kitchen was simply old and worn out.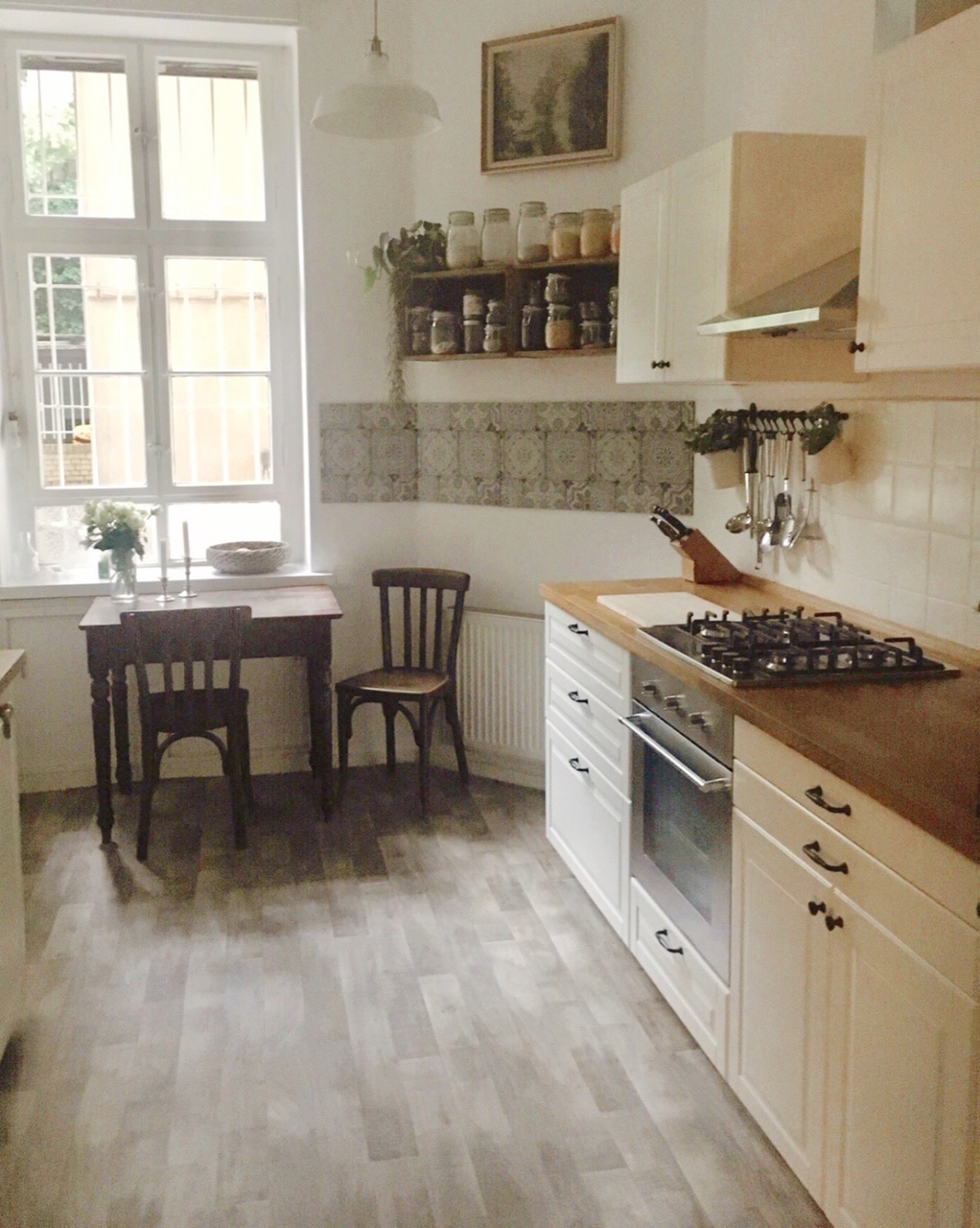 We kept the kitchen fronts and furniture. So this is the new, I think, wonderful result:
After so much mortar, dust and kitchen chaos I was so exited to do a first recipe in the new kitchen and decided to go for some delicious chocolate pancakes with cinnamon and delicious creamy almond paste. I love chocolate and almond paste and pancakes of course and belive me, I deserved it after all this work! Now I'm looking forward to getting started in my sniffy new kitchen and trying out wonderful recipes for you. See you soon, yours Lea
Ingredients (6 pancakes/serves 2-3)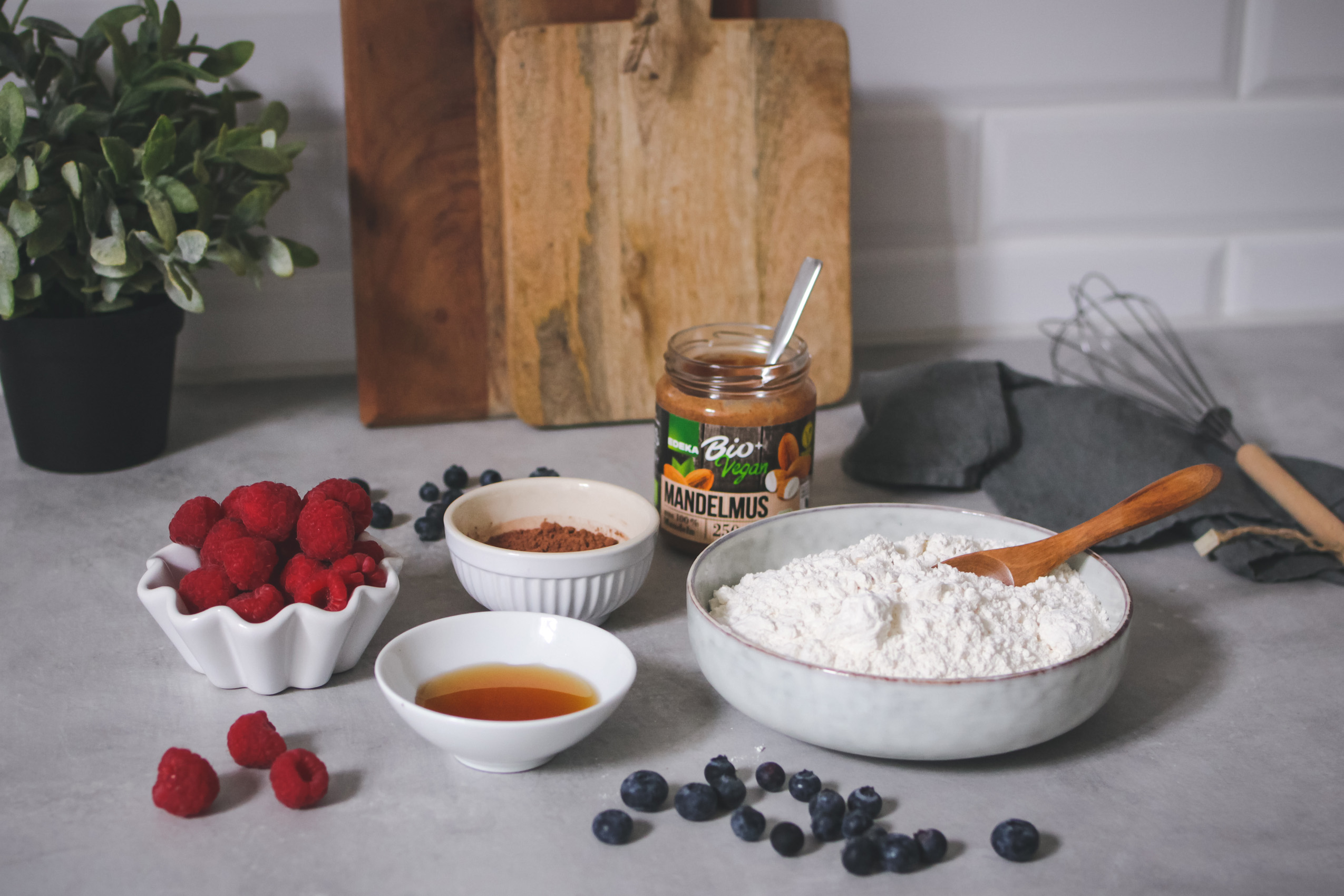 300 g (2 cups) (spelt) flour (type 630)

4 tbsp. raw cocoa

1-2 tsp cinnamon

500 ml (16.9 oz) plantbased milk (e.g. oat milk or almond milk)

3 tbsp. maple syrup + more for drizzling

2-3 tbsp. coconut oil or another vegetable oil

3 tbsp. dark almond paste/almond butter

Blueberries or raspberries to your liking

Optional: Icing sugar for dusting

Optional: Hulled hemp seeds for garnish
Instructions (25 minutes)
Mix the spelt flour, raw cocoa, cinnamon, plant drink and maple syrup to an even pancake dough, allow to swell for 5 minutes and stir again.

Heat a few drops of (coconut) oil in a flat pan and use a ladle to toss out the dough for a pancake in the hot pan. Fry the pancake for approx. 2 minutes, flip over fry again for 2 minutes. Repeat this process until all the pancakes are baked. Keep the pancakes warm in a slightly heated oven until serving.

Sprinkle the chocolate pancake with maple syrup and cinnamon and fold. Drizzle with almond paste, add berries as desired and dust the pancakes with icing sugar. If you like, serve with hulled hemp seeds. Enjoy!