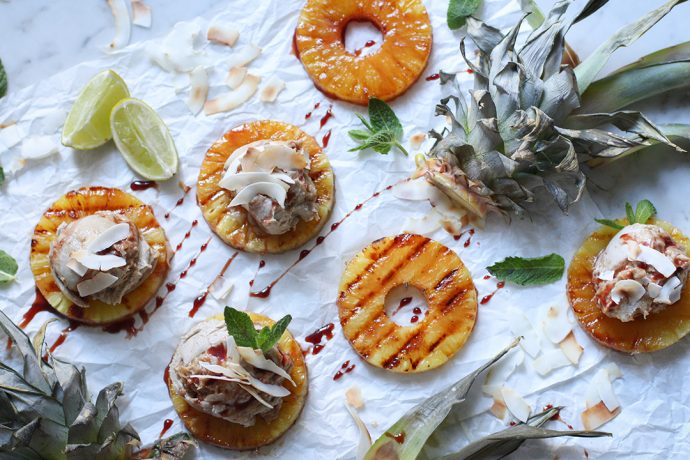 Zu meinen Favoriten hinzufügen!
Did you know that it is super delicious to grill fruits? May you already tried this with bananas?! At the end of a barbecue I often put some unpeeled ripe bananas onto the hot barbecue grill and let them roast until completely black from the outside. If you than open them, the bananas will be caramelized and super aromatic on the inside. You can drizzle them with chocolate, coconut or vegan ice cream. It's such an awesome sweet treat. But also melons, peaches and pineapples taste super good when grilled (so do avocados and yes, they count as fruits as well, not veggies!). In this recipe I show you how to prepare a grilled pineapple with easy home made maple-date ice cream. All vegan, all good and a highlight for your next barbecue. The whole family will love it, I'm sure! Looking forward to your feedback, all the best Lea
Ingredients (serves 4-6)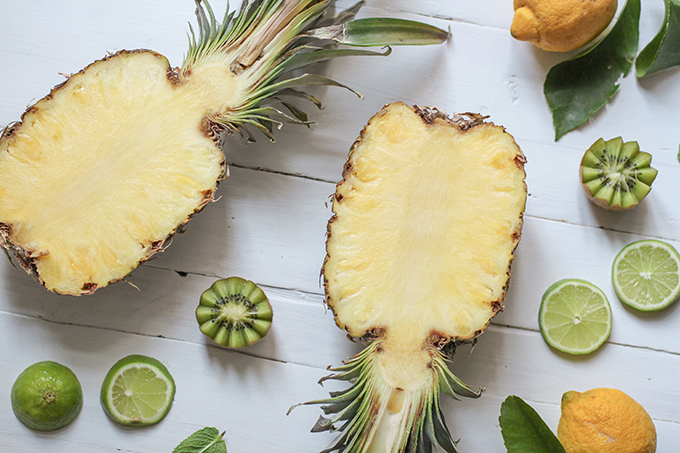 For the ice cream
1.4 cup cashews (dry/don't let them soak)

2 frozen bananas

0.5 cup coconut cream (solid, cold part of a coconut milk)

7-8 tbsp maple syrup

1 tsp locust bean gum or tapioca starch

0.5 cup pitted Medjool dates

0.5 tsp sea salt

1 dash of cinnamon

2 tbsp plantbased milk
For the grilled pineapple & finish
1 pineapple

1-2 tsp coconut oil

1 tbsp lemon or lime juice

Some slightly roasted coconut flakes

Mint leaves for garnish

Optional: 2 tbsp dates syrup
Instructions (25 minutes working time + freezing overnight)
Puree cashews, frozen bananas, coconut cream, vanilla, 3 tbsp maple syrup and a small tsp locust bean gum in a high-speed blender till creamy. Transfer into a container, smooth with a spoon and put into the freezer during next working step.

Puree pitted Medjool dates, 3 tbsp maple syrup, sea salt, a dash of cinnamon and 2 tbsp plantbased milk in a high-speed blender. Swirl in the date paste into the ice cream base. Smooth again. Put into the freezer for at least 5 hours or overnight.

Cut the pineapple (without its hard core) into slices. Heat the coconut oil in a grilling pan (or put the slices onto your barbecue grill) and roast the pineapple slices 2-3 minutes from each side till golden brown. Drizzle 1-2 tbsp of maple

 

syrup over the slices while roasting.

Serve grilled pineapple slices with ice cream scoops, drizzle over some date syrup and garnish with roasted coconut flakes and mint leaves.