Zu meinen Favoriten hinzufügen!
Lasagna – the mother of all soulfood. Hardly any dish is so inviting, creamy and delicious all around. With a lasagna you simply make everyone happy – including yourself of course. Warm bubbling, goden gratinated and wonderfully fragrant – nobody can resist here. This recipe shows once again that vegan cuisine can really do everything – without any substitute products. What could be better if such a lasagna recipe is not only creamy and tasty, but also rich in protein and low in calories?! Because that is exactly what we have here! The filling of this lasagne consists of an aromatic lentil tomato sauce. Lentils are an ideal source of protein. Instead of classic lasagne pasta leaves, low-calorie zucchini slices are used and cheese is also not found in this recipe. The lasagne is refined with a creamy light béchamel sauce. It doesn't just taste good – it's also good for you! That's why this lasagna serves for 4 people, even though you may think it's enough for 6 or more people. It's sooo satisfying but at the same time light and easily digestible. You won't feel full and sluggish, but happily satisfied afterwards. Enjoy a wonderful pasta treat! Don't forget to leave a comment, I'm so curious how it turned out and how much you liked it. All the best, yours Lea
Ingredients ( serves 4 / for a casserole dish with the dimensions 23 x 30 cm/ 9 x 11.8 inch)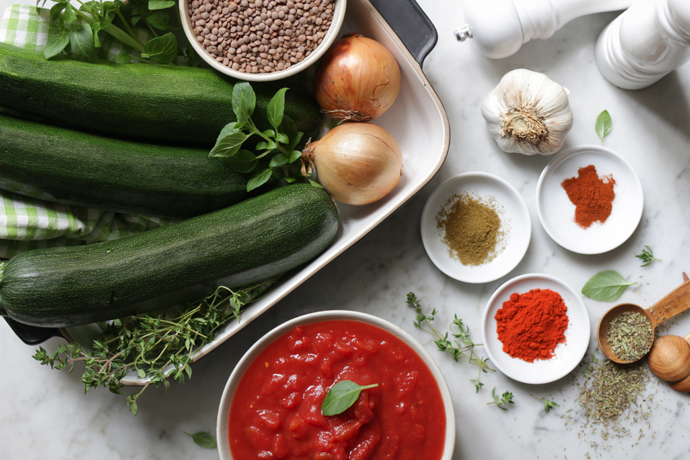 For the tomato-lentil-sauce (red sauce)
100-120 g (3.5-4.2 oz) onions

1 small clove of garlic

200 g (1 cup/ 7oz) mountain or green lentils

1-2 tbsp. vegetable oil

3 tbsp. tomato paste

2 tbsp. dark balsamic vinegar

A dash (50 ml) of red wine (can be substituted by more water)

2 packages or cans of chopped tomatoes (2x 400 g / 2x 14 oz)

1 tbsp. herbs of Provence

Optional: 1-2 sprigs of Rosemary

Optional: 2-3 sprigs of Thyme

Salt

Black pepper

1 tbsp. paprika powder

Optional: 1 tsp. smoked paprika powder

1 small tsp. cumin
For the creamy béchamel sauce (light sauce for gratinating)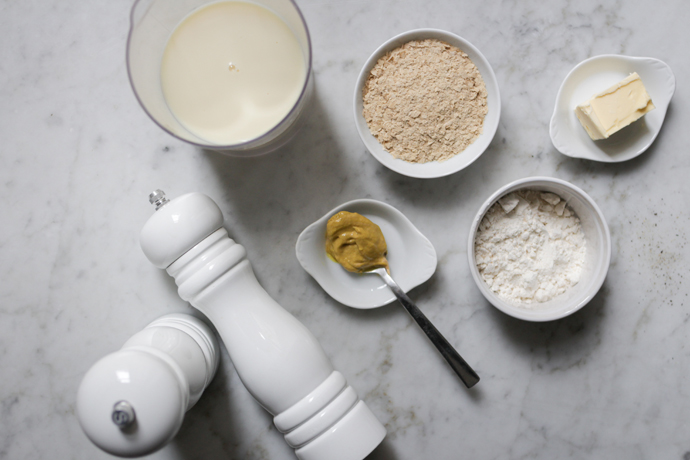 30 g (1.05 oz) Margarine

25 g (0.88 oz) (spelt) flour (I used type 630)

400 ml (1.69 cup) plantbased milk (e.g. rice- or spelt milk)

3 tbsp./15 g (0.5 oz) yeast flakes

1 tsp. spicy mustard

Salt & pepper
Besides
850 g (30 oz) Zucchini

A small bunch of fresh Basil
Instructions (35 preparation time + 30 minutes baking time)
First of all, to better understand this recipe, it basically consists of three main components:
a) A delicious aromatic tomato sauce with lentils b) A white béchamel, which makes the lasagne particularly creamy and with which it is gratinated c) Zucchini cut into slices, which divide the individual layers as "lasagne leaves".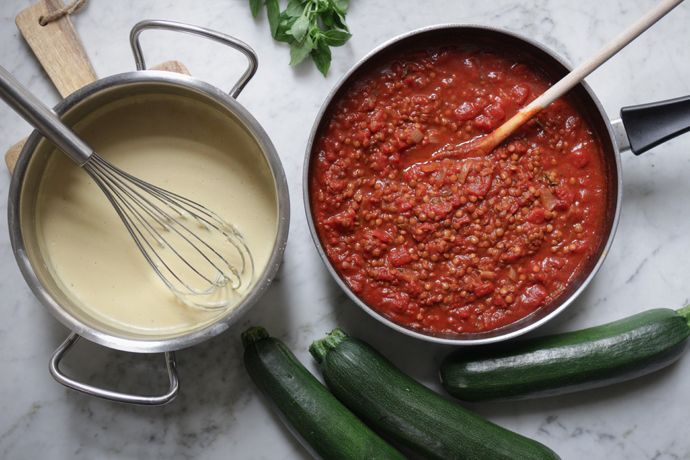 Therefore, we first make the two sauces and then layer everything into a large casserole dish. The lasagne is then baked. The result is a delicious lasagne treat for the whole family. Let's go!
Peel and chop the onions and garlic clove. Rinse the lentils in a sieve under running water. Wash all herbs and shake dry.

Heat 1-2 tbsp. vegetable oil in a deep pan and sauté the chopped onion and garlic for 2-3 minutes. Add the lentils and quickly fry with 3 tbsp. tomato paste. Deglaze the lentils with 2 tbsp. balsamic vinegar and a dash of red wine (optional). Let the lentils simmer briefly. Pour in 350 ml (1.5 cup) of water, add 1-2 Rosemary sprigs and simmer the lentils over medium heat for 8-10 minutes.

After 8-10 minutes cooking time, the liquid should have evaporated well and been absorbed by the lentils. Add another 150-200 ml (0.6-0.8 cup) of water and stir in the chopped tomatoes. Season the red sauce with 1 tbsp. herbes of Provence and/or leaves of 2-3 sprigs of Thyme, a pinch of salt and pepper, 1 tbsp. paprika powder, a small tsp. smoked paprika powder and 1 tsp cumin. Let the sauce simmer gently for another 10 minutes.

After 25 minutes total cooking time, the lentils should be pleasantly soft, but still a little bit firm. The red sauce layer is now ready. It can be seasoned individually with salt and pepper. Remove the Rosemary twigs. (Attention: The cooking time and the amount of water required can vary slightly depending on the type of lentils you use. The sauce is ready when the lentils are pleasantly firm to the bite.)

Preheat the oven to 200 °C (392 °F) circulating heat/fan and quickly prepare the béchamel sauce.

For the béchamel sauce, melt 30 g margarine in a pot. Stir in the (spelt) flour and immediately add the plantbased milk little by little and stir well until a creamy sauce is obtained. Stir in 3 tbsp. yeast flakes, 1 tsp.hot mustard and season the béchamel with salt and pepper.

Wash the courgettes, cut off the ends and cut them into thin slices.

Now it's time to layer your lasagna: Spread a small ladle of red sauce on the bottom of the casserole dish and place the first layer of zucchini in the dish. Lightly salt the zucchini layer and optionally sprinkle with 1 tsp. of herbs de Provence. Spread 2-3 scoops of red sauce on top and spread 1 scoop of béchamel on top. Layer the zucchini slices again, salt and pour the rest of the red sauce over the zucchini. Then pour the béchamel completely over the lasagna. Sprinkle the lasagne with herbs of Provence and some fresh Thyme and add a pinch of pepper and salt. Below you can see the individual steps illustrated.

Bake the zucchini lasagne in a preheated oven at 200°C (392 °F) circulating heat/fan for 25-30 minutes until the béchamel layer begins to brown and the entire lagagne bubbles beautifully. Take the lasagne out of the oven, let it cool for at least 20 minutes and enjoy.

If the lasagne has become too cold, heat it briefly in the oven again. Garnish the lasagne portions with fresh basil and season again with salt and pepper.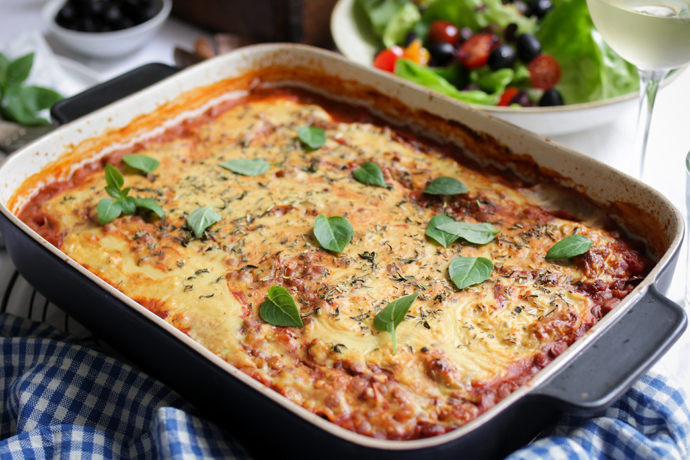 Tip: With lasagna it is very important that you let it cool down a bit after the preparation, so that the ingredients can set and you can cut the lasagne wonderfully. Of course you can also serve it hot directly from the oven, but then it is more liquid, but of course still very delicious.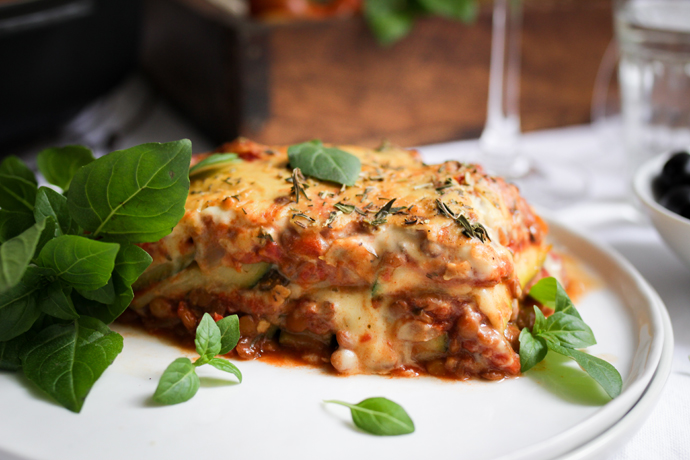 This is pure soulfood for the whole family. A healthy dish, full of proteins and simply delicious.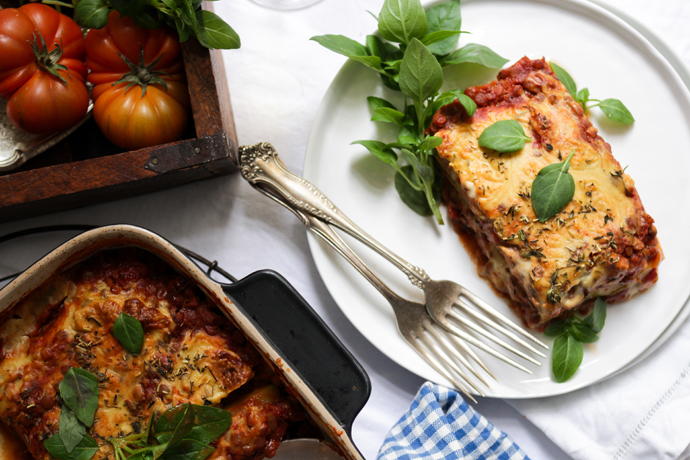 Want some more?