Zu meinen Favoriten hinzufügen!
Vegan donuts are a sweet, fluffy & irresistible treat. An all time classic which during autumn I love to bake with pumpkin puree, which gives your donut an awesome color and makes them moist and fluff. Because pumpkin puree is perfect for baking. Simply cut and roast pumpkin briefly in the oven and then puree them. Have you ever tried it?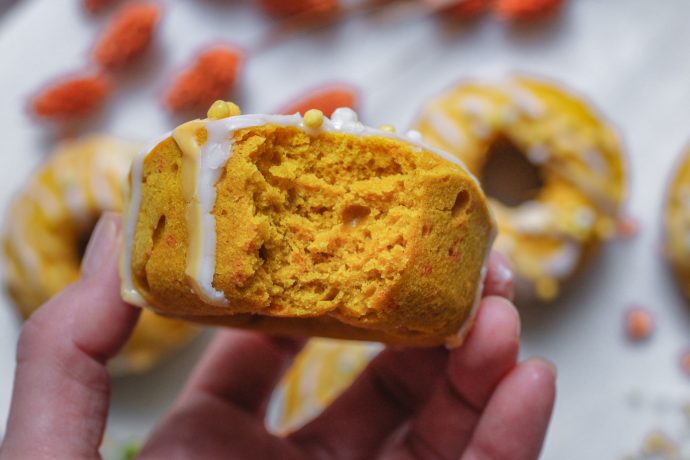 Cooperation: For this delicious baking recipe I used "Dr. Oetker Creme VEGA". This vegan product based on coconut and soy is a great alternative to crème fraîche. It gives the pastry a nice binding, fits the ingredients in taste and is available in many supermarkets. Already discovered? I also use "Dr. Oetker Creme VEGA" for my stews, to make sauces creamy or to refine dips. You'll see – our donuts become super fluffy with it.
Since I couldn't decide, I made two variations of the donuts. One with a powdery coating of a "coconut blossom-sugar-cinnamon mix" and a second variation with lemon glaze. I am curious to see which one is your favorite. I like both variations, but I think that the great color of the donuts comes out especially well in the glaze. The nice thing about this recipe is also that it is really simple and can be prepared with only a few ingredients. For the typical "autumn taste" I added cinnamon, cardamom, nutmeg and ground ginger to the dough. You can also just use a ready made "Pumpkin Spice". Oh yes – and if you don't have any donut forms – no problem! You can also simply fill the dough into muffin tins and bake delicious pumpkin muffins. Enjoy. I'm looking forward to your feedback, best Lea.
Ingredients (8 donuts)
150 g pumpkin (Hokkaido/ Weight without seeds/with skin)

1/2-1 tsp. coconut oil

1 pinch of cinnamon

Optional: 1/4 teaspoon turmeric for a nice golden color

100 g Creme Vega (a vegan Crème Fraîche alternative)

100 ml pantbased milk

1 tbsp. cider vinegar

250 g (spelt) flour

50 g cane sugar

1 TL baking powder

1/2 TL baking soda

2 tsp. cinnamon

1/4 tsp. cardamom

1/4 tsp. nutmeg

1/4 tsp. ground ginger

1 pinch of salt
Donuts in two variations: For the glaze or garnish, you have 2 options here: Either you coat the donuts in a mixture of coconut blossom sugar and cinnamon, which tastes super delicious. Or you sprinkle the donuts with a lemon glaze. I used vegan food coloring for the orange colored part of the glaze and sprinkled some sugar beads on top of the donuts.
For the coconut blossom sugar coating
2 tbsp. margarine

50 g coconut blossom sugar

1-2 tsp. cinnamon
Or you go for a lemon glazing
80 g icing sugar

2 tbsp. lemon juice

Vegan food coloring orange as an option

Optional: sugar beads for garnishing
Instructions (15-20 minutes preparation + 2x 10 minutes baking time)
Preheat oven to 200 °C/ 392 °F fan and cover a tray with parchment paper.

Wash pumpkin, remove seeds and cut 150 g/ 5.3 oz of it into pieces. Mix the pumpkin cubes with coconut oil and a pinch of cinnamon, spread on baking paper and bake at 200 °C/ 392 °F fan for about 10-12 minutes until the pumpkin cubes start to brown slightly at the tips.

Leave oven preheated at 180 °C/ 356 °F and grease donut cups with some coconut oil or margarine.

Puree roasted pumpkin with 1/4 tsp. of turmeric, 100 g Cream Vega, 1 tbsp. of apple vinegar and 100 ml plantbased milk in a blender.

In a second bowl mix spelt flour, cane sugar, baking powder, baking soda, cinnamon, a pinch of cardamom, freshly grated nutmeg, ginger and a pinch of salt.

Add the pumpkin puree to the flour and spice mixture and stir quick & vigorously with a spoon.

Spread the dough onto the greased doughnut forms and fill in only 2/3 in each mould, as they are rising in the oven.

Bake pumpkin donuts at 180 °C/ 356 °F fan for about 10 minutes. Then let the donuts cool down briefly and take them out of the tin.

Melt 2 tbsp. of margarine. Mix coconut blossom sugar and cinnamon. Lightly brush the donuts with margarine and turn them in the coconut blossom sugar.

Or you can mix a glaze of powdered sugar and lemon juice and sprinkle it on the donuts. I colored half of the glaze orange with food coloring. That looks especially pretty. If you like, put additional sugar beads over the donuts.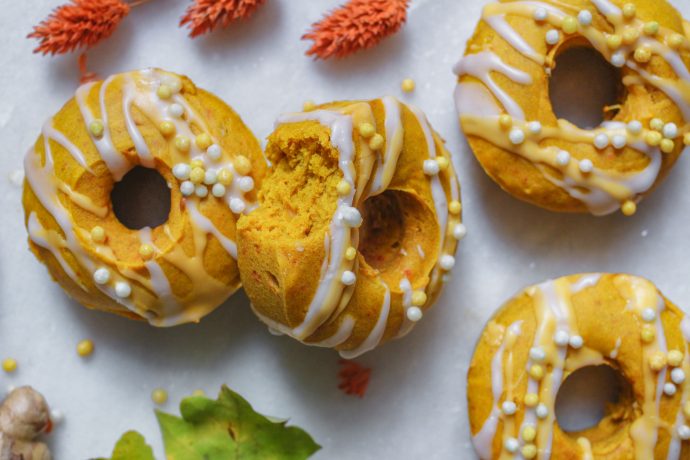 The donuts become super fluffy and soft. Simply delicious.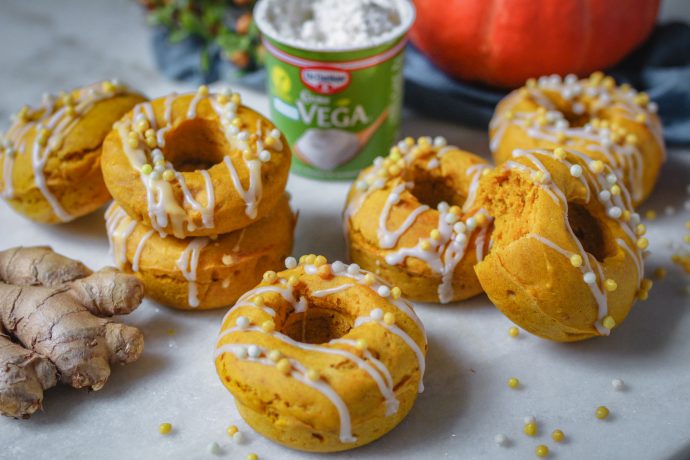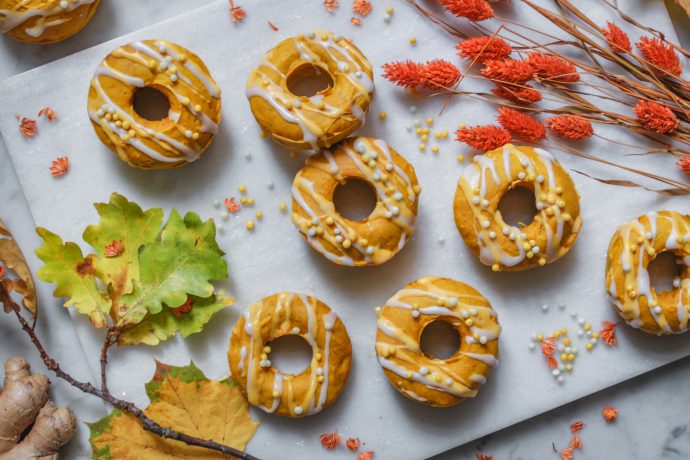 Which one is your favorite? Coated with coconut blossom sugar or sprinkled with a delicious lemon icing?
Write me about it! I am looking forward to hearing how you prepared your donuts. Have fun, xoxoxo Lea