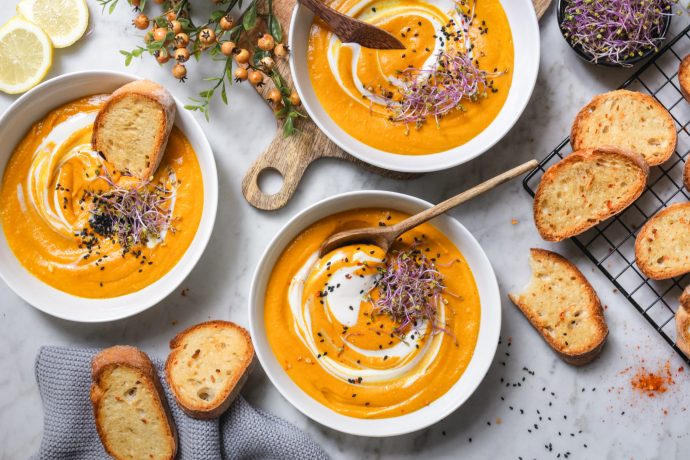 Zu meinen Favoriten hinzufügen!
If you are in the mood for a creamy delicious and warming pumpkin soup without any hassle – this recipe is for you! I created it after a long working day. Exhausted and tired I was craving an aromatic pumpkin soup, but neither wanted to use many ingredients nor to spent long time in the kitchen. Besides, I had already eaten well that day and wanted to make a pumpkin soup variation without coconut milk – light, healthy and yet super creamy and delicious. With the little trick of first roasting the soup ingredients in the oven and then simply pureeing them in a blender, I actually created a new favorite recipe of mine. By simply roasting pumpkin, apples and onions before blending them, they develop such an intense flavor – so I enjoy making this soup over and over again.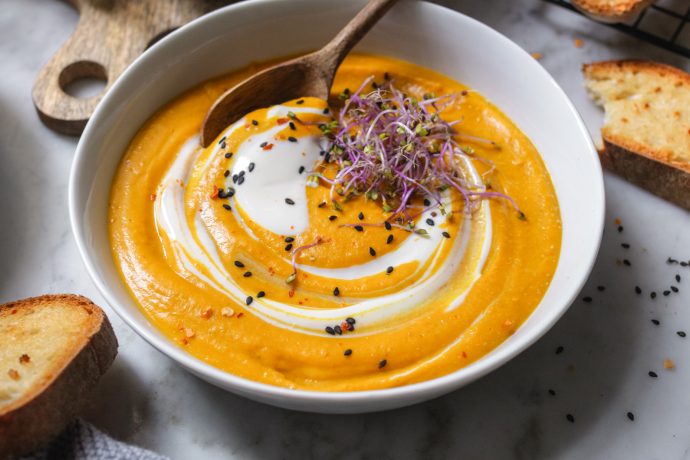 For seasoning I use both Ras el-Hanout and my beloved "hot Madras curry powder" – but you can actually use any curry powder of your choice. And if you don't have the oriental spice "Ras el-Hanout" at hand, just replace it with a little cumin or leave it out. I am super curious to see how you like this pumpkin soup and I am looking forward to hearing from you. Write me about it in the comments. With my warmest and "warming" regards, xoxoxo Lea.
Ingredients (serves 2)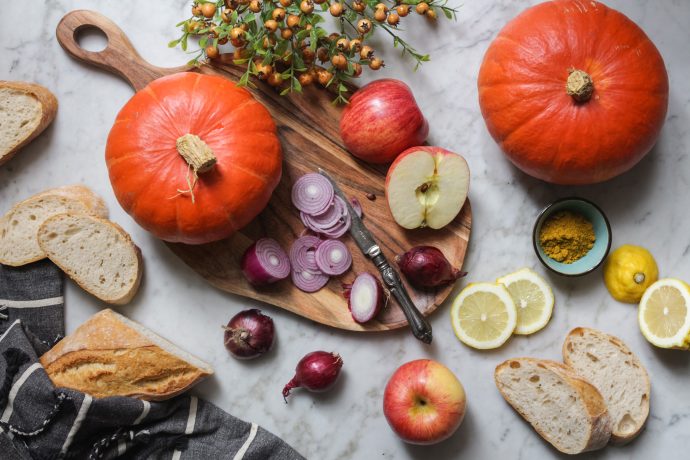 1 small pumpkin  (I used Hokkaido/ weight without seeds/with skin 550 g)

2 apples

80 g (2.8 oz) onions

2 tsp. sesame oil

Salt

1 small tsp. Ras el-Hanout (optional – you may replace it with a pinch of cumin)

1 tsp. paprika powder

Chili flakes to your liking

2 tbsp. yeast flakes

1 small tsp. turmeric

2 tsp. hot Madras curry powder (or any other curry powder of your choice)

400 ml (13.5 oz) unsweetened plantbased milk

Lemon juice for seasoning

Optional: 5 g freshly grated ginger

Optional: Soy or coconut yoghurt for garnish

Optional: Sprouts for garnish

Optional: Black Sesame seeds for garnish
Optional for roasted garlic bread
Half a baguette bread

1 clove of garlic

3-4 tbsp. olive oil
Instructions (20 minutes preparation  + 15-17 minutes baking time)
Preheat oven to 200 °C/ 392 °F fan and cover a baking tray with parchment paper.

Wash the pumpkin, cut it in half, remove the seeds and cut into cubes. Wash apples, remove core and also dice. Peel and slice the onions.

Put pumpkin cubes, apple pieces and onion rings on the baking paper, mix well with sesame oil, salt, 1 small tsp. Ras el-Hanout, 1 tsp. paprika powder and as desired a few chili flakes.

Bake at 200 °C / 392 °F fan for about 15-17 minutes until tender and slightly roasted.

Then put the ingredients into a large blender, add the yeast flakes, turmeric, hot Madras curry powder, plantbased milk and puree the ingredients until creamy. (If you don't have a blender, simply put the ingredients into a pot and puree them with a hand/stick blender)

Stretch the soup to the desired consistency with water and season to taste with lemon juice and salt. If you like, you can also add some grated fresh ginger (I skipped that this time as I felt like the aroma already was intense). If necessary, heat the soup again in a pot.

Pour pumpkin apple soup into bowls, garnish with vegan yogurt and sprouts and serve sprinkled with black sesame seeds. Enjoy to the fullest.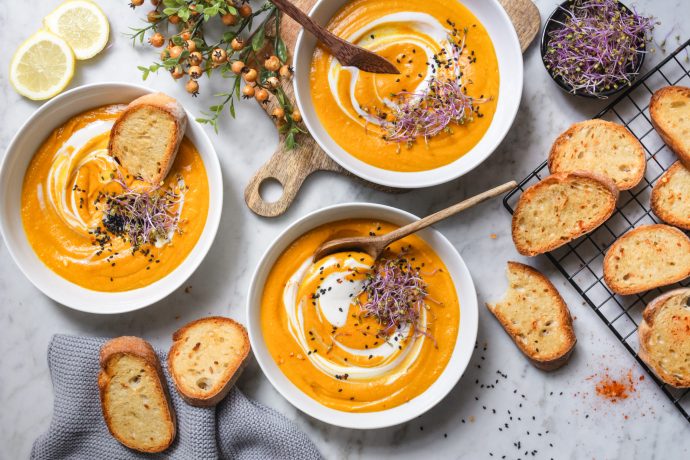 Optional: Cut open half a baguette, peel and press a clove of garlic. Mix the pressed garlic clove with 3-4 tbsp. of olive oil and brush the baguette slices with it. Bake the baguette slices in the oven at 200 °C/ 392 °F fan for 7-10 minutes until crispy and then lightly salt them. Serve the garlic baguette with the pumpkin soup.