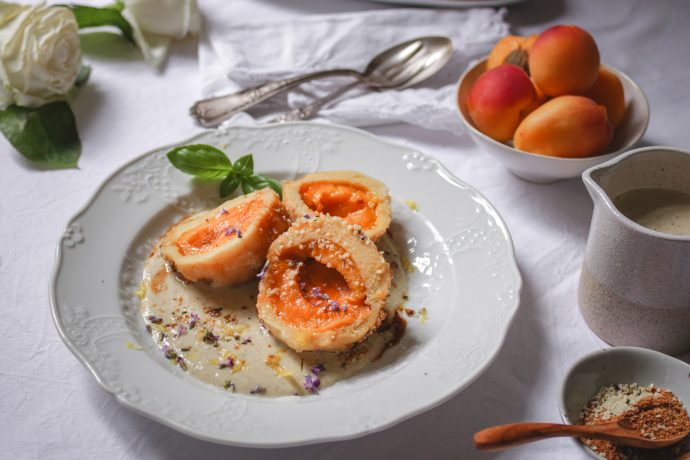 Zu meinen Favoriten hinzufügen!
Have you already eaten apricot dumplings this summer? If not, then you should give this awesome dish definitely a try. Soft, juicy and sugar sweet apricots are one of the most beautiful gifts that summer provides us with. In southern Germany and Austria they are also called "Marillen", which I find particularly pretty. The beautiful and delicious stone fruit originates from China, belongs botanically to the "rose family" and only came to Europe in the 16th century. Although apricots also thrive here, they are mostly grown in Spain, Italy and the main production area, Turkey.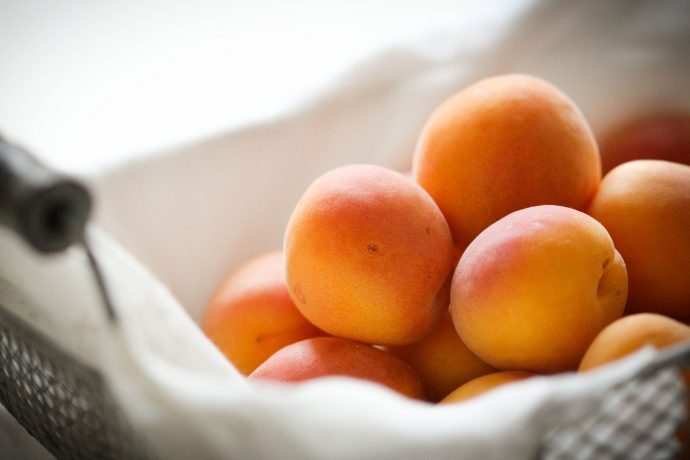 Whether eaten pure, as jam, in couscous or rice dishes, as cakes, muffins or compote – apricots are not only incredibly delicious, but also very healthy. They contain particularly high levels of beta-carotene, vitamin C and folic acid, but also magnesium and iron. They are wonderful for a radiant skin, healthy eyesight and a strong immune system. Today I will show you how to make delicious apricot dumplings with apricots – a traditional German dish, I think. Since apricots can vary greatly in size, the recipe is designed for 6 large or 8 small apricots. Altogether it results in 2-3 portions – depending on your appetite. So, enjoy the summer to its fullest and don't forget to leave me a comment on the recipe, all the best Lea.
Ingredients (for 6-8 dumplings up to the size of the apricots)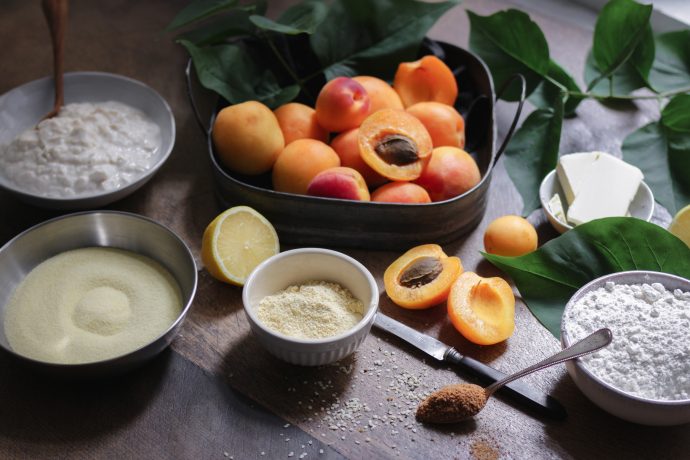 50 g (1.7 oz) margarine

250 g (8.8 oz/ 1 cup) vegan curd

100 g (1 cup) (spelt) four

100 g (1 cup) semolina

2 tbsp. (25 g/0.8 oz) chickpea flour or soy flour

Zests of a half an organic lemon

6-8 apricots

1 pinch of salt

6-8 small tsp. of coconut sugar + coconut sugar for dusting

1 pinch of cinnamon

2 tbsp. hulled hemp seeds

Optional for garnish: lavender flowers
For the vanilla sauce
250 g (8.8 oz) silken tofu

Zests of a half an organic lemon

1 tsp. ground vanilla

2 tbsp. rice syrup or agave syrup

Optional: 1 bit of tumeric for a nice golden color of the sauce

Some plantbased milk to dilute the sauce to your liking
Instructions (25 Minuten Zubereitungszeit + 15 Minuten Kühlzeit + 10 Minuten Kochzeit)
Melt the margarine and mix with the vegan curd. Stir in spelt flour, semolina and chickpea flour. Wash the lemon with hot water, scrape off the zest of half a lemon and mix in. Knead the dough well and let it rest in the fridge for 15-20 minutes. This will make the dough firmer.

Wash and separate the apricots without cutting them completely apart and remove the stones. Place a small tsp. of coconut sugar into each apricot.

Divide the dough into 6 or 8 portions depending on the size of the apricots, form each portion round and flat with moistened(!) hands and wrap the filled apricots.

Heat a pot of lightly salted water and let the apricot dumplings simmer gently in boiling water for about 10-15 minutes. The water should not bubble too much, but rather boil. Remove the apricot dumplings from the water and let them drain. Mix coconut sugar, cinnamon and peeled hemp seeds and sprinkle the dumplings all around.

For the sauce, blend silk tofu, the zests half of an organic lemon, ground vanilla and rice syrup in a blender. If you like, add a bit of turmeric to give the sauce a nice yellowish color. Season the vanilla sauce to taste with more sweetener if you like and stretch the consistency with plantbased milk to taste. I do this while the dumplings are simmering.

Halve the apricot dumplings and serve still hot on vanilla sauce. I add some lemon zests and garnish the dumplings with some beautiful lavender flowers.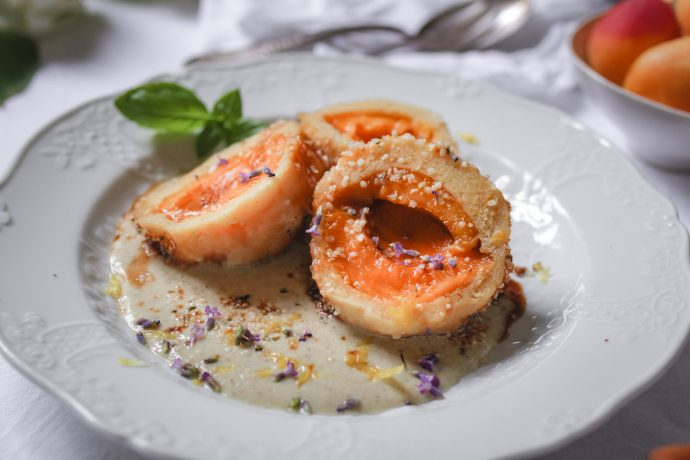 Tip: The apricot dumplings taste best fresh. You can heat them up again, but they taste really perfect right after cooking. This is why I only make a small portion at a time, as it is indicated here.