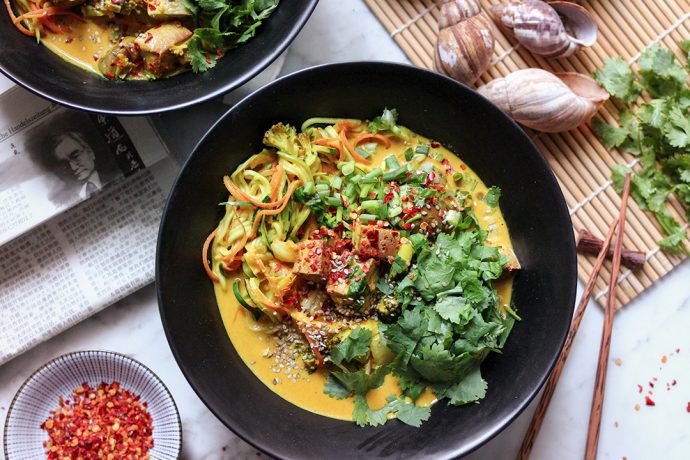 Zu meinen Favoriten hinzufügen!
Are you a curry lover? I definitely am! Currys are so super easy to make, creamy, rich and full of flavor. This red curry bowl is made within 25 minutes. Just grab your veggies, chop and cook everything in one wok. So no need to do wash a lot of dishes and pans. For this recipe I spiralized carrots and zucchini, but you can also simply chop them or substitute them with rice noodles or add some more rice noodles to your liking. I also added brokkoli as it is delish and super healthy as well as some mushrooms. But this comfort food curry also allows for another selection of veggies of your choice. So this recipe is also ideal to "clean your fridge" from leftover veggies. Personally, I like my currys very spicy, but just go for a mild version and use less curry paste and skip the chili in case you want to serve the curry to kids or people who are not into spicy food. So, hope you enjoy and have a good one, all the best Lea.
Ingredients (serves 2)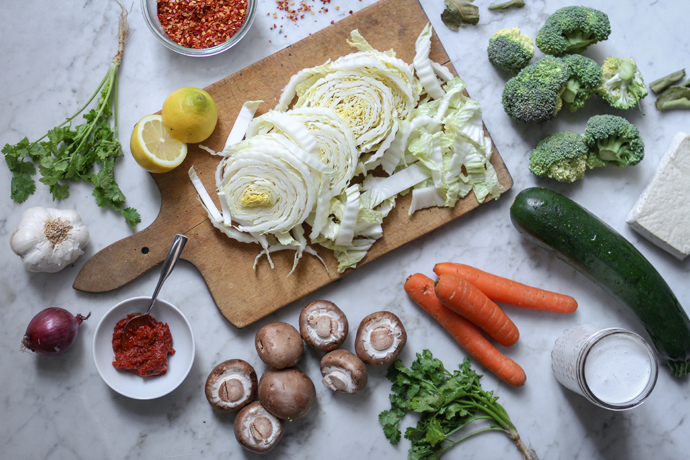 200 g (7 oz) firm tofu

2 tbsp. soy sauce

1 tsp. sesame oil

50 g onions

1 small or half of a garlic clove

20-25 g (0.7-0.8 oz) fresh ginger

350 g (12.3 oz) (Chinese) cabbage

150 g (5.3 oz) broccoli

120 g (4.23 oz) carrots

350 g (12.34 oz) zucchini

1 lemon

Salt & chilli flakes (or pepper)

150-170 g (5.3-6 oz) mushrooms

1-2 tsp. coconut oil

1.5 tbsp. vegane rote Currypaste

1.5 cans (600 ml/2 2/3 cups)) coconut milk

Optional: 2 Kaffir lime leaves

1-2 tsp. turmeric

A small bunch of fresh cilantro

Optional: Some chopped spring onions for garnish

Optional: 2 tsp. roasted sesame seeds
Instructions (approx. 25 minutes)
Press tofu dry with kitchen paper and dice (or cut into slices). Heat 1 tbsp. soy sauce and 1 tsp. sesame oil in a wok and brown the tofu for a few minutes. Then put the tofu aside.

Peel and chop the onions and garlic clove. Wash and slice Chinese cabbage. Wash broccoli and prepare 200g florets. Cut 120 g carrots into a spaghetti shape with a Julienne slicer or spiral slicer. Wash and spiral 350 g zucchini. Mix the carrot and courgette spaghetti with 1-2 tbsp lemon juice and a little salt and let it sit for some minutes.

Clean and dice the mushrooms with kitchen paper.

Heat 1 tsp coconut oil in a wok. Sauté the onion and garlic cubes briefly until translucent. Then add the sliced Chinese cabbage and fry for 2-3 minutes. Add peeled and grated ginger. Add 1.5 tbsp vegan red curry paste, fry shortly and add 600 ml coconut milk. Add 2 kaffir lime leaves (optional) and the broccoli florets and simmer for about 4 minutes in the coconut milk. Then add the mushroom cubes and simmer again for 2-3 minutes.

Season curry with 1-2 tsp turmeric, 1 tbsp soy sauce, salt and chilli flakes. Then drain the zucchini and carrot spaghetti, add to the curry and warm up. Wash, chop and add a handful of cilantro. Add fried tofu.

Serve your curry in two beautiful big bowls, garnish with chopped spring onions and roasted sesame seeds. Enjoy with plenty of fresh cilantro.